About our Game
---
EndTime Rush is a brute dexterity runner, convincing with reckless gameplay and a lunatic's euphoric temper.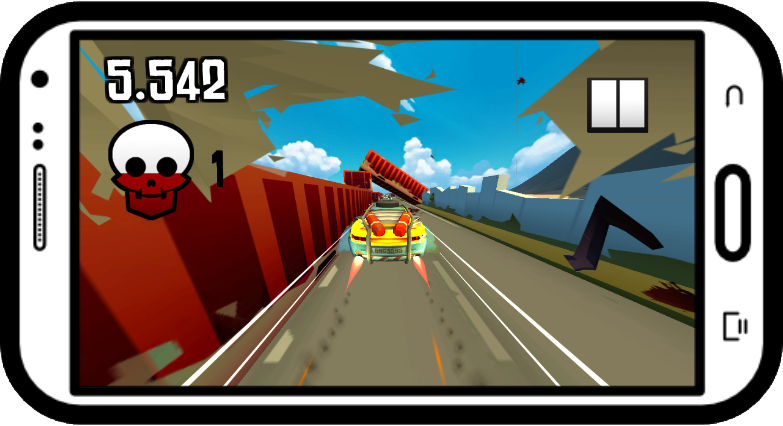 This is our second semester project
Ragequit will develop EndTime Rush until 01 september 2017, which will then be available on Google Play Store due to its entertaining game experience and high technical quality (no bugs, 30+ fps). We aim for 5000+ downloads in the first month after release.
Concept
Mobile endless runner with a simplistic and cheerful look. Assets have a low level of detail and hard, visible edges. The game is set in a post apocalyptic world in the near future. The player is located on a road in the industrial desert, rumbling through hordes of zombies with a badass car. Additionally, he has to evade obstacles. A collision with an obstacle is the lose condition, even though the actual game goal is to kill as many zombies as possible.
Setting
The game is set in a post apocalyptic world, which was overrun after a zombie breakout. The known human civilisation collapsed. Survivors formed scattered groups of resistant forces, though most of them are brute madman, more animal than human. The globally spread, lifeless desert hasn't much to offer besides industrial architectures of the past and zombies. The player takes control of a frenzy lunatic, seeking for joy in the newly emerged sport of killing zombies with self-tuned cars.
Game Information
| | |
| --- | --- |
| Genre | Endless Runner |
| Working Title | EndTime Rush |
| Development Time | 18 Weeks |
| Camera | Third-Person |
| Playtime per Session | 2 - 3 min |
| Target Audience | Zombie Fans, 16+ years old |
| Player Type | Achiever > Killer |